Cisco Meraki solutions include cloud managed wireless access points, network switches, and state-of-the-art firewalls. Additionally, included with any device, is the Systems Manager agent. Installing this agent on any Apple or Windows machine or portable device, specifically any running iOS or Android, brings many management features to your business. Addressing the need for asset management, tracking, software control, security concerns, the Systems Manager agent provides a robust management solution at no cost.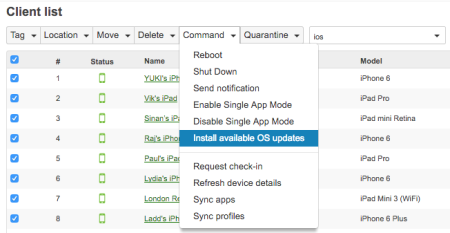 The strategic partnership between Cisco and Apple of late has brought a host of new features within each of the Cisco Meraki products to support Apple products. Upgrading devices with just a couple of clicks in the dashboard (dashboard.meraki.com), IT administrators can rest assured that their organization's devices are running the most secure, up-to-date version of the OS or iOS, without the headache of manually updating each device individually, or relying upon users to do it themselves.
Problem
A company has a remote sales force using company owned equipment. The IT Manager has no existing management tools to address updates, track the location of the devices, manage the security profile, and many other needs without having the user bring the device into the office.
Solution
Installing the Systems Manager agent allows the IT Manager to control the device at any time. Once installed, the manager can set profiles to address concerns introduced by HIPAA, PCI, and SEC compliancy requirements. The agent runs in the background yet updates the Meraki Cloud management portal in real-time allowing the IT Manager to stay informed and provides control of all the computer and device assets of the company regardless of their location in world.